Why Piazza Works
Piazza is easy to use and takes minutes to set up. But what is it that keeps students engaged and saves you time?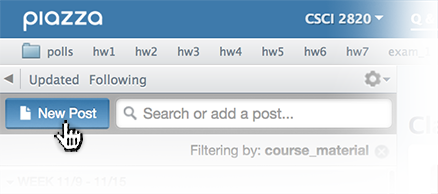 It starts with students contributing.
Anyone can ask and answer questions on Piazza. With students teaching students, conversations on Piazza can continue long after office hours are over.
Piazza gives students anonymity options to encourage everyone—even shy students—to ask and answer questions. Instructor endorsements of good questions and answers let instructors push the class in the right direction.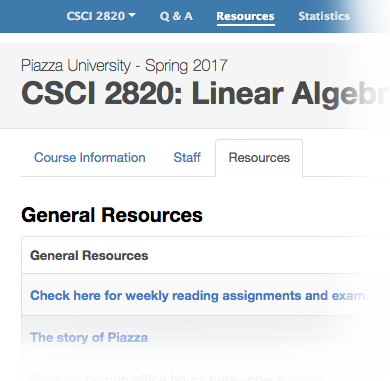 Manage course Q&A and resources in the same place.
Your course page is the place to manage announcements, course information and syllabi, and course resources. Think of it as your class website.
The announcements section lets you bypass your course email list. When you need to reach the entire class right away, just post a note, mark it as an announcement, and select the option to send it immediately to the entire class.
The course information section is an easy way to maintain details about the course and staff contact information. Make this the place students know to visit to check office hours for the week.
Students can visit the course resources section to find materials like homework assignments, lecture notes, and important links all in one place. Post a note when you update or add a new resource so the whole class is always on the same page.